The Blog
Unlocking Modern Shareholder Democracy: TEA's Call for Inclusive Investor Engagement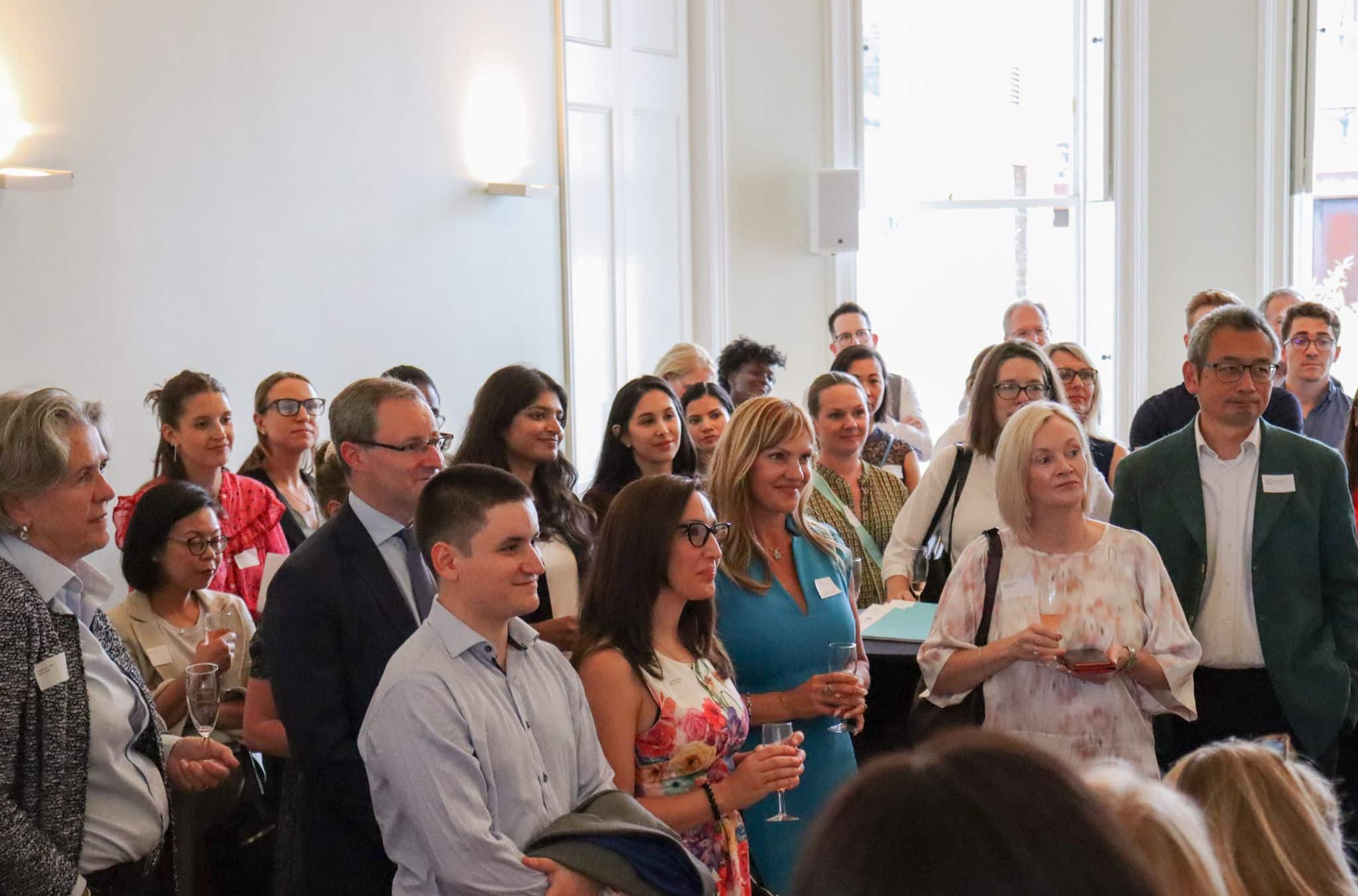 In the fast-paced world of modern finance, there is a quiet revolution brewing, one that seeks to empower the individual investor and debunk antiquated perceptions of retail shareholders. TEA – The Engagement Appeal emerges as the platform for inclusive investor engagement, extending a compelling line of communication to journalists, stakeholders, and those genuinely interested in the plight of the individual investor.
White Paper
At the heart of TEA's vision is a white paper that resonates with simplicity, sustainability, and effectiveness. It calls for better alignment between companies and ALL their shareholders, promoting mutual understanding and a wider inclusion of views essential for companies to future-proof themselves and address the often-neglected social aspect of ESG.

Latest Facts and Info
In our quest to modernise investor relations practices from being exclusively focused on institutional investors and finally being inclusive of retail shareholders – something that has been argued for over two decades, we seek to demystify concepts that may previously have been mis-understood. A good example is the nominee 'bashing' that we see from ShareSoc, a UK shareholder society of largely retired, older white men with very tradition or 'old world views'. They continue to promote their 2014 paper that blames private client broker platforms (PCBs) and nominees, like interactive investor (ii), Hargreaves Lansdown (HL), AJ Bell (AJB), etc. for the disenfranchisement of retail shareholders. They also go on to state that holders in nominee accounts are 'anonymous' and are 'not real' shareholders. This simply is not correct. Here are the two main reasons why:

First, companies have the right under Section 793 of the UK Companies Act 2006 to request that nominees, like ii, HL ad AJB, disclose who, specifically, line by line, each of the underlying individuals are behind the said nominees, at normally no extra cost to the company. This would be similar to what companies already do to uncover the institutional shareholders behind the nominees. However, companies, to date have generally not bothered with this 'drilling down' process for individual investors. They have preferred instead to just obtain the aggregate total positions held by the said nominees. I advised on 1,000 proxy solicitation campaigns in my 23 years in shareholder engagement. The key reasons cited by companies for not 'drilling down' is that there are too many little shareholders and not a whole heck of a lot of shares. The effort of finding out who they are let alone contacting them, has just not been worth companies' time, relative to amount of time they could instead spend engaging with the largest institutional shareholders.

The exception is Blackrock World Mining, who voluntarily undertook to identify the underlying holders in the nominees on their register and to write to these holders to invite them to their AGM. In doing this, the company evidenced their true commitment to investor inclusion.

Secondly, there have been significant technological advancements that mean participation in the engagement process and proxy voting are now more widely available. Nominees, led by ii, who, based on our observations, appear sincere about democratising share ownership, have made significant strides over the last two years to facilitate proxy voting and attendance at AGMs. HL and eToro are the latest PCBs to offer proxy voting. In addition, PCBs are proving themselves to be more agile and able to support the increasingly sophisticated needs of their individual clients. As can be seen by the recent activist situation at Bidstack, not only are the biggest nominees / PCBs now able to support retail shareholders' basic rights, ii, HL, AJB, enabled retail shareholders totalling 5% of the ISC of Bidstack to requisition a general meeting.

TEA Initiatives

So, based on the above it just simply is not right to put all the blame on nominees. As the 2020 Law Commission Scoping Paper states, nominee share ownership or intermediation comes with many benefits, including convenience, lower costs (from 0% commission to c. £12.99 per trade, which is a heck of a lock cheaper than buying registered shares at minimum admin fee of c. £45 a trade), and quicker settlement (2 days via a nominee rather than 10 days if buying via a registrar). I for one am in the process of buying at least one share in every single listed company, starting with the FTSE 350, then the All-Share, AIM and Aquis. My aim is that by end of September 2023, I will own shares in all c. 2,100 UK-listed companies. Buying these via the low-cost PCB platforms will cost me around £14,700 in trading fees (and much less if I purchase through a no commission platform like eToro). If I followed the same process buying directly via the company registrars, the total admin for purchasing shares across the 2,100 companies would be c. £94,500, and the process for account application, purchasing, registering, settlement and issuance of share certificate is expected to also be more rigorous, and take more time – up to 10 days according to this information for registrar, Equiniti https://www.shareview.co.uk/4/Info/Portfolio/default/en/home/buyandsell/Pages/Buy-Certificated.aspx.
Don't get me wrong, of course I see the benefit of direct share ownership, but as I said in a recent LinkedIn post, if the likes of 'ii can continue to demonstrate that convenience and lower costs associated with intermediation do not have to infringe on shareholders' rights (and maybe even have an enhancing effect), then this will continue to be great news for individual shareholders and democracy, which could lead to more individuals investing in UK companies and being more engaged in company matters. This would be good news all around – for levelling up, promoting inter-generational participation in the stock market, and spreading financial literacy, progress that The Engagement Appeal – TEA are striving for.'

We live in a free world and there is always more than one way of achieving aims. However, we fear that unless our questions and concerns, per the above and in our Sharing Our Voice paper, are allayed, we remain of the view that what ShareSoc and Archie Norman's Share Your Voice campaign are arguing may not be aligned with the responsible, proactive modern shareholder democracy towards which TEA are aspiring. Especially with the Consumer Duty coming into force on 31 July, it is essential that best practice is applied consistently across the industry by companies and organisations around outcomes for individuals.
Call to action
Change is never easy, but just like all things requiring evolution, a mindset shift and openness to new ideas are necessary for unlocking true shareholder democracy. And that is what TEA are offering. We are calling on all the companies listed in the London Stock Exchange and at least one million individuals to commit to inclusive investor engagement by becoming members of TEA by December 2025. Our approach to impact is through positive re-enforcement, collaboration, and constructivism, rather than immediate activism and disruption.

Shortly, we hope to meet with as many of the listed UK companies to discuss and seek their commitment to inclusive investor engagement, with which we would help them with the process. At the same time, we are developing individual investor 'edutainment' and empowerment programmes that looks to leverage the many amazing initiatives that already exist in the market. We will undertake these via our forthcoming Partying for Change™ and Art and the City™ programmes. We also look to reimagine AGMs as opportunities for stakeholder engagement by developing our concepts of the AGM Festival™ and Biggest Shareholder Event Ever™.

Finally, as per our white paper, which we encourage you to glean, we believe that modernisation of investor relations can finally be achieved, given all the technological advances made and the rise of the individual. Positive impact can be achieved – faster and more effectively, with a people-powered movement backed by big business, the co-operation of the PCBs, registrars, other intermediaries, and all market participants. With a matter as complex as investor engagement, it will take 'all hands on the pump', proactive, voluntary action, the application of innovative tech, and importantly, sincerity.
About TEA – The Engagement Appeal
TEA is the platform for inclusive investor relations. Its objective is to increase interaction between corporates and their retail investors. By improving interaction, the corporates' investment proposition will be better understood by retail investors and share price will not always be subject to irrational downward pressure. TEA aims to help corporates prepare for greater shareholder participation whilst targeting enhanced financial literacy amongst retail investors and improving their chances of building a successful portfolio. Our White Paper, 'The Path to Inclusive Investor Engagement' sets out how public companies may significantly improve relationships with their shareholders and build longer term investor value. The paper was developed with the help of the members of the informal committee, which  include individual investors and representatives from organisations ranging from impact groups, ShareAction, Tumelo, Tulipshare, and Rethinking Choices, to City firms, Mishcon de Reya, Peel Hunt and Sillion, and gen z-founded start-ups, CAUSE and Circular Regeneration. Our mission is backed by TEA's Inaugural Sponsor, Morrow Sodali, and ground-breaking tech firms, Proxymity, Lumi, Investor Meet Company and Pressrisk and Paul Lester, CBE, Chair of FTSE-250 Essentra plc, who is calling on other PLCs to also join in the movement.
About Sheryl Cuisia, Co-Founder of The Engagement Appeal
Sheryl is a social entrepreneur, individual investor, and advocate of stakeholder capitalism. In 2011, she founded Boudicca Proxy, the leading shareholder engagement consultancy, which became part of the FTSE 250 company Equiniti Group in 2018. Over 20 years in corporate governance advisory, she has overseen 1,000 campaigns across multiple industries and markets. Sheryl is the inaugural Entrepreneur-in-Residence at King's College, Cambridge University, the Co-Founder of the Women's Company Secretary Circle, a judge of the NED Awards, and non-executive director of CTFN UK. She was also briefly a director and then Chair of the UK Individual Shareholders Society (ShareSoc) between September 2021 and March 2022. She holds an MBA from Bayes Business School and is pursuing a doctorate in business administration.
Join TEA! Let's shape the financial inclusion agenda together by facilitating

inclusive investor engagement

. Sign up now for FREE!
Sign up to our newsletter to stay up to date