The Blog
WoCoS: Empowering Women in Corporate Governance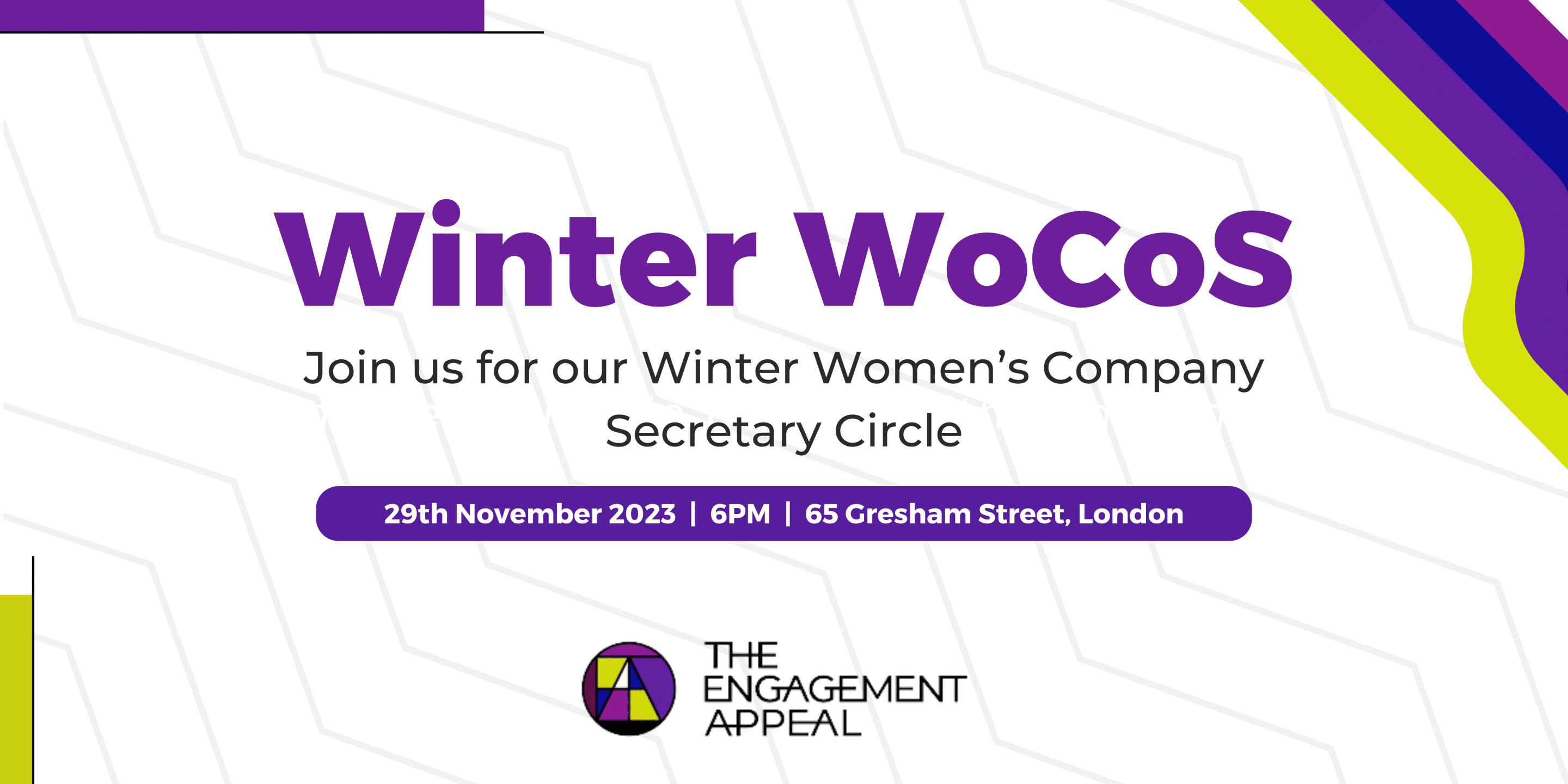 TEA – The Engagement Appeal, in collaboration with our valued sponsors and partners, are incredibly excited to invite you to our upcoming Winter WoCos event.
On 29th November 2023 we're set for a dynamic night of inspiration and connection, where we'll be hosting a drinks and canapé reception, followed by a panel discussion and networking.
Event details:
Wed 29th Nov 2023 18:00 – 21:30
65 Gresham Street, London
——————————————
The theme of the evening's panel discussion focuses on 'Positive Influence in the age of Digital Marketing, Social Media, and AI' and will feature the following speakers:
Camilla Esmund, an emerging leader and 'next-gen' trailblazer. Camilla plays a pivotal role in Interactive Investors' team, where she oversees their cutting-edge media campaigns. Interactive Investor is striving to democratise share ownership and increase shareholder engagement in voting.
Patrick Sarch, a multi-dimensional talent, is widely trusted as an adviser to the boards of many UK and international listed companies, financial institutions, and investors. Patrick is featured in our Art and The City podcast, in which he reveals some fascinating personal experiences of bridging the gap between the worlds of art and business.
Penny Thomas, a truly outstanding individual, holds a prestigious title as a chartered governance professional. Penny was honoured with the 'Governance Hot 100' award, achieving the title of 2023 Board Influencer and has a wealth of experience in working with FTSE companies.
Maddie Albon, a transformative figure on the horizon, works closely with the Investment Banking, Research and Sales departments to produce innovative and compelling content that increases the Peel Hunt brand profile across digital platforms. Maddie is also a prevalent social media influencer outside of her work.
With two additional speakers soon to be announced…!

Please keep in mind that spaces are limited for this event, so you'll need to reserve your space early to avoid disappointment.
WoCoS – The Women's Company Secretary Circle has been empowering female professionals in corporate governance for over five years. Despite our name, we are incredibly inclusive – but sure are proud to be female! All are welcome. This event will present an unbeatable opportunity of fresh and effective engagement solutions that considers intersectionality and the next generation of investors.

With many companies' year-end being 31st December, and annual reporting season quickly following this, we look to provide guests with insights that can be taken forward to aid their planning.
Huge thanks to Link Group for sponsoring the event.
If you wish to attend this event, you can get free tickets by following the link below:
https://www.eventbrite.co.uk/e/womens-company-secretary-circle-tickets-740191010237?aff=erelexpmlt
——————————————
Join us for TEA!
TEA is the pioneering hub designed to harmonise the aspirations of visionary companies and individuals in one vibrant ecosystem. We offer centralised insightful information, innovative solutions and programs, and a dynamic two-sided market to facilitate a symbiotic relationship between companies and individual stakeholders.
By joining TEA today, you'll secure founding member status and gain access to our brand-new membership program, complete with an array of incredible benefits, including access to crucial resources, groundbreaking solutions, and the opportunity to align corporate goals with enhanced financial inclusion and literacy for all.
Joining is FREE and simple! Be a part of something significant by becoming one of our founding members.
Register online today at www.teaxall.org
——————————————
TEA – The Engagement Appeal extends its sincere gratitude to Morrow Sodali, our inaugural sponsor, for their unwavering commitment and invaluable support towards TEA's mission.
Join TEA! Let's shape the financial inclusion agenda together by facilitating

inclusive investor engagement

. Sign up now for FREE!
Sign up to our newsletter to stay up to date