The Blog
Winter WoCoS | 29th November | Panel & Agenda Announcement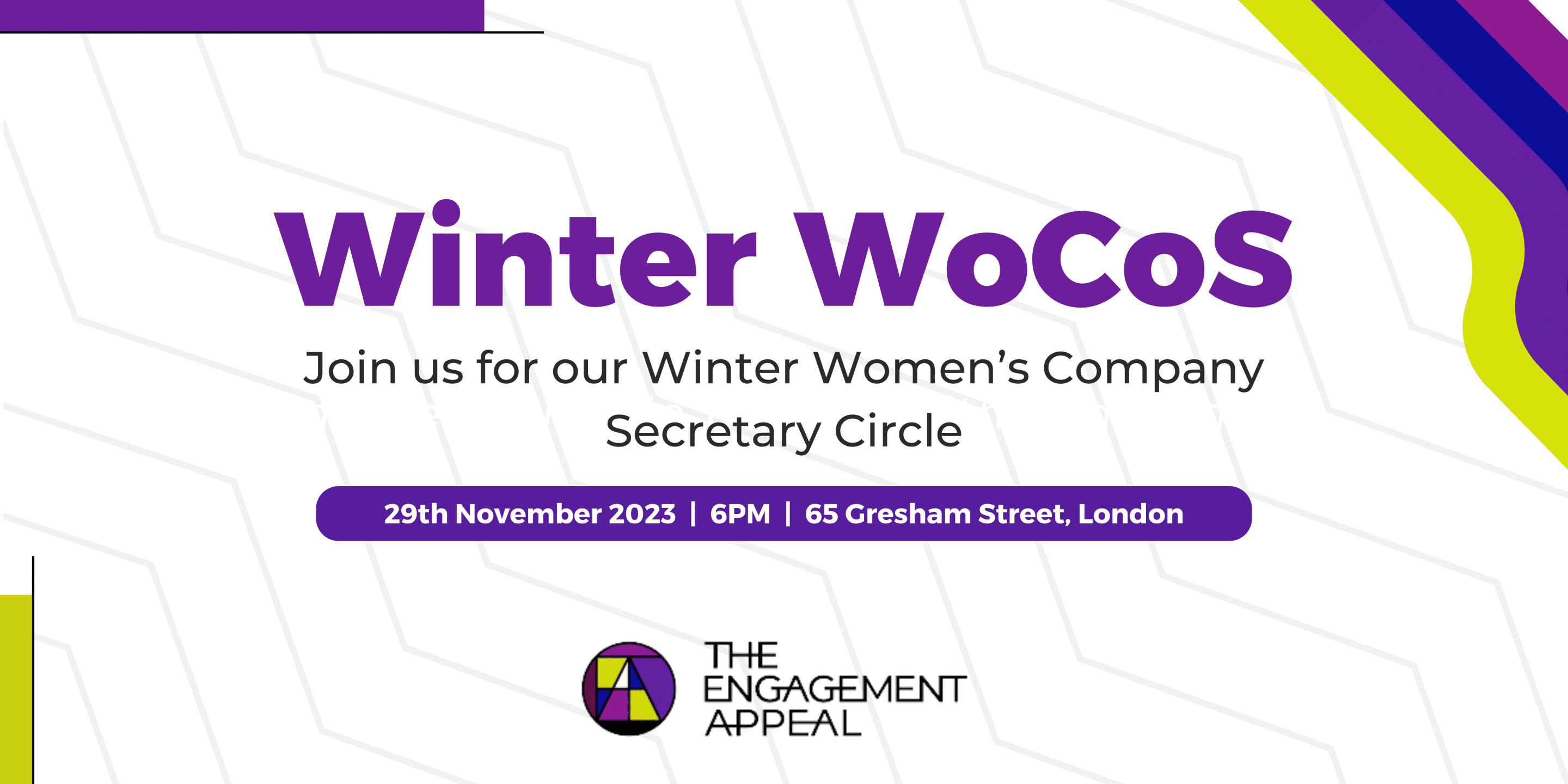 TEA – The Engagement Appeal, with our Event Sponsor, Link Group, warmly invite you to the Winter WoCoS. The event will allow guests to steep themselves in innovative and inclusive engagement strategies that thoughtfully blend intersectionality, social influence, and tech with the aspirations of 'nextgen' investors.
With many companies' year-ends being 31st December, and the bustling annual reporting season being hot on the heels of this , we aim to equip you with valuable insights that can serve as a powerful catalyst in their strategic planning endeavours.
We are delighted to present a diverse and multi-generational panel of experts, including:
Adele Gilbert, Head of Marketing & Investor Relations at Aquis Exchange PLC, a European challenger exchange dedicated to fostering improved markets for a modern economy. Aquis Exchange PLC stands as the creator and facilitator of next-generation financial markets and distinguishes itself as a stock exchange that integrates cutting-edge technology while maintaining a close focus on entrepreneurship.
We are also pleased to note that Dr Sabine Dembkowski, Founder & Managing Director of Better Boards, the leading board evaluation tech firm, will be joining our 'intro' panel. This panel comprises TEA's exceptional Gen Z ambassadors, who will be discussing the intersections of arts, education, and entrepreneurship.
Places are limited. So, please book your ticket without delay: 
Book your ticket HERE
—————————————————————————————————————————

Event details:
When:     Wed 29th Nov 2023 18:00 – 21:30
Where:     65 Gresham Street, London
Format:     Drinks and canapé reception, followed by a panel discussion & networking
Event Sponsor: Link Group
Event Schedule:
6:00 pm: Guests arrive Drinks reception
6:30 pm: Welcome by Event Sponsor, Link Group
6:35 pm: Opening Remarks by TEA
6:40pm: Intro Panel NextGen Matters
7:00 pm: Keynote Panel
7:45 pm: Audience Q&A
8:00 pm: Panels end
8:10 pm: Closing remarks
(Stay for speed networking and more refreshments!)
9:30 pm: Event ends
Book your ticket HERE
—————————————————————————————————————————
Logistics:
This is a drinks and canapé reception, with two sit-down panel discussions. The event will take place in two adjacent rooms – the first for the drinks reception and networking, and the second for the panel sessions. Expected number of guests is 100, to include company secretaries, corporate governance professionals, some c-suites, NEDs, and others from diverse backgrounds.
Guests will flow from the reception room to the panel discussion room from 6:30 pm.
Speakers will assemble in the space at the front of the panel discussion room where there will be a chair for each and table. The talk will begin with welcome remarks by Link Group, who will then hand over to Sheryl Cuisia of TEA who will provide the opening remarks for the two panels.
Guest Speakers:
We are delighted to present the exceptional guest speakers of the Women's Company Secretary Circle (WoCoS).
INTRO PANEL:
A chaired informal discussion with TEA's Gen Z Ambassadors and two leading business professionals on the matters affecting the finances and investing decisions of the younger generations.
TEA Ambassadors
Emmeline Armitage | Art
Joseph Vambe | Education
Niam Patel | Entrepreneurship
Panellists:
Dr Sabine Dembkowski | Founder & Managing Director | Better Boards
Intro Panel Chair: TEA
KEYNOTE PANEL:
A chaired discussion with a multigenerational panel of experts who will engage on the topics of 'nextgen' investors and the impact of tech, social influence, digital marketing and current macro- and microeconomic factors on personal finance, investing and the work of co secs and IROs.
Adele Gilbert | Head of Marketing & Investor Relations | Aquis Exchange PLC
Camilla Esmund | PR Manager | Interactive Investor
Maddie Albon | Brand Manager | Peel Hunt
Patrick Sarch | Head of UK Public Company M&A | Hogan Lovells
Penny Thomas | Company Secretary | Crest Nicholson PLC
Keynote Panel Chair: Link Group
—————————————————————————————————————————
Book your ticket HERE
—————————————————————————————————————————
Topics and Points of Discussion:
The key matters and developments capturing companies' and investors' interests and concerns:
Financial performance

Responsibility – People, planet and prosperity; ESG, DE&I, intersectionality
Tech, especially generative AI
How are current macroeconomics and microeconomics, and tech advancements affecting the work of company secretaries, IROs and boards? How are these affecting investors?

Do companies know their shareholders? Do they know what their shareholders want?
The next generation of investors and the concept that today's consumers are tomorrow's investors.
Who are the nextgen investors? Why do they matter? What is their impact? What are their interests and are these sufficiently being considered by companies in their shareholder engagement programs?

The case for financial literacy and financial inclusion and the consideration of these in today's Investor relations practices.

Access, education, empowerment – The ingredients for financial inclusion and literacy.
How are social media, digital marketing, Web 3, and gamification impacting personal finance and investing?
Engaging nextgen – Are current IR / engagement practices fit for today's society and post-Covid world? Do diversity and inclusion matter in investor engagement?
The financial case for engaging retail shareholders and individual stakeholders.
WoCoS – The Women's Company Secretary Circle came to be nearly five years ago to empower female professionals in the field of corporate governance. It flourished into a supportive and diverse, networked community of company secretaries, corporate governance professionals, c-suites, and other inspiring individuals from various walks of life. Despite our name, we are inclusive, but we sure are proud to be female too! This event provides an engaging platform to foster collaboration, share experiences, and gain insights into the crucial role of company secretaries in today's dynamic business environment. All are welcome!
Please do reserve your place early to avoid disappointment – spaces are limited!
About Us: TEA is the pioneering hub designed to harmonise the aspirations of visionary companies and individuals in one vibrant ecosystem. We offer centralised insightful information, innovative solutions and programs, and a dynamic two-sided market to facilitate a symbiotic relationship between companies and individual stakeholders. By joining TEA, you will gain access to crucial resources, groundbreaking solutions, and the opportunity to align corporate goals with enhanced financial inclusion and literacy for all. Joining is FREE and simple!
Sign up by visiting our website here.
—————————————————————————————————————————
TEA – The Engagement Appeal extends its sincere gratitude to Morrow Sodali, our inaugural sponsor, for their unwavering commitment and invaluable support towards TEA's mission.
Join TEA! Let's shape the financial inclusion agenda together by facilitating

inclusive investor engagement

. Sign up now for FREE!
Sign up to our newsletter to stay up to date